H2 Green Steel has started production at Europe's first green steel plant in Boden, northern Sweden. Using hydrogen to replace coal, the company hopes to roll out the first batches of steel by 2025.
The green steel will be created by using hydrogen to react with iron ore, producing only water vapour. H2 Green Steel will produce its own green hydrogen using water from a nearby river.
The electricity required for electrolysis and the running of the plant will be provided by nearby renewable resources including hydropower from the Lule river and wind parks in the region. The process promises to cut emissions by 95% when compared with traditional steelmaking.
Steel production currently accounts for 7% of total global greenhouse gas emissions.
The steel is produced using a direct reduction reactor in the place of a blast furnace, producing sponge iron and water.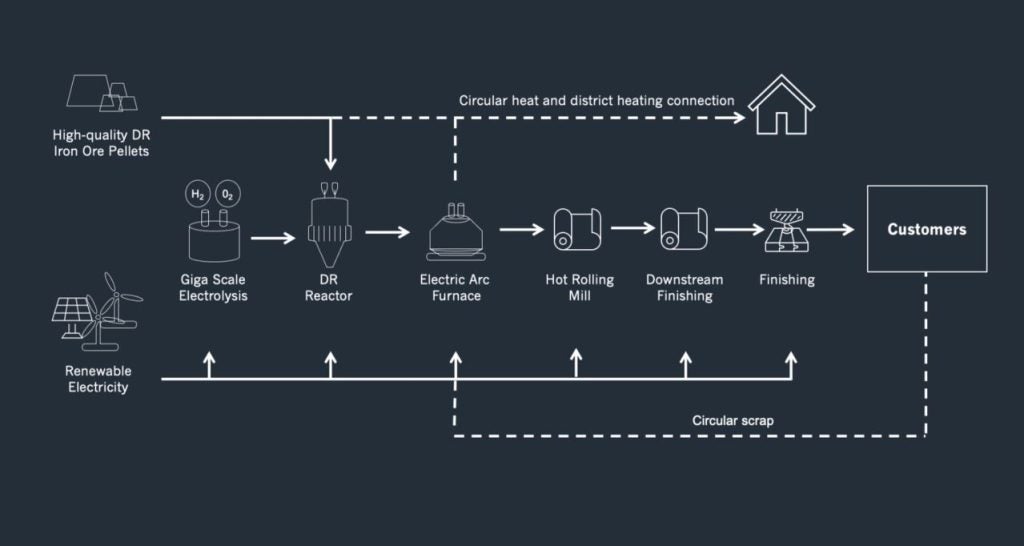 H2 Green Steel spun off from Northvolt, which makes batteries to power the energy transition, as the company sought more sustainable steel to use in manufacturing.
H2 Green Steel hopes the factory will produce five million tonnes of steel by 2030. According to the World Steel Association, global crude steel production in 2021 was 1,951 million tonnes.
In addition to producing green hydrogen for its own use, the company also seeks to export it as a resource for heavy industry. By 2050, hydrogen is expected to account for 10% of global energy consumption.
H2 Green Steel is developing the Boden plant amid a growing interest in the production of green steel. The company has already signed an agreement with Spanish company Iberdrola to build a plant powered by solar power on the Iberian peninsula.
Hybrit, another Swedish company, hopes to open a fossil-free green steel plant by 2026 in a joint venture with mining operator LKAB, Nordic steel company SSAB and energy company Vattenfall. In Japan, Nippon Steel has plans for a green steel plant, while competitor projects in France and Germany are also under way.